Ruapehu Alpine Lifts (RAL) was identified as the key employer near National Park.
While it was acknowledged that RAL provided businesses opportunities for local businesses to work alongside them, there was some negative regard held toward the organisation and their relationship with the local community.
The nature of work is changing in National Park. Where most work used to be primary industry based, it is now centered on tourism.
Employment in tourism work is seasonal, and relies on out of district (and overseas) people coming in to work.
It is perceived as a challenge for those seeking long term local employment as it's viewed as poorly paid and unstable.
Obstacles to getting seasonal workers revolves mostly around access to accommodation.
"…. she struggles to get employees, and she did say it's because they can't find accommodation. They've got one house that people can live in but if you want your own house, you can't. So I know that they've got jobs. There are lots of people that do advertise, but you know. It can be hard. They were struggling for guides and they want people with a connection to the area, that kind of thing."
"There's permanent lack of people to help with cleaning, hospitality, bus drivers, it's an ongoing thing. And of course when you get people to come in from outside the area it doesn't mean they're going to stay; they're not setting up roots so there is a constant business of people having to be trained all the time. It's the same at the i-sites. They're having to train people all the time and it's a huge range of products that they're offering."
"There's been a big push, marketing and stuff to bring visitors, but it's not being equated with providing accommodation for the staff and that sort of stuff…. There's a disproportionate drive for business, which is great if you've got business and stuff but we still, it's still important to have a community and a place for locals to live to have their kids at the school".
"I don't think there's much unemployment here. You can't afford to be, you really can't. Because you've got to drive everywhere, pay your rent, be mobile. It's something about the psyche of the community, it's just a hard-working community. Look at everybody buzzing around. It's a hard-working community."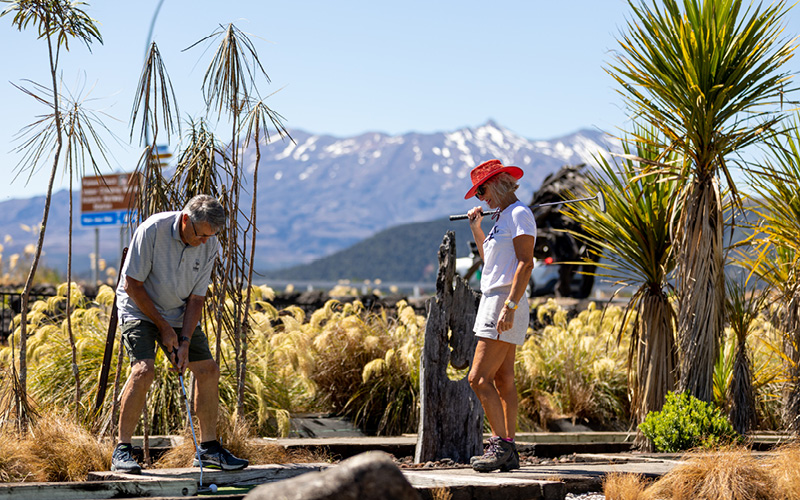 Recent changes and improvements in technology and interact access have resulted in more people living and working remotely in National Park.
"There's more hospitality. More managing short term rentals. Transport. Driving buses, there's a lot of buses."
"Sometimes in the winter, and I noticed it more last year is that some people will come and work digitally. So they can, they might be working with America or with Asia, and so they're here because they want to be in the environment and work digitally and on the phone and by computers because they're at that level of business that they can do it that way. Some of them stay longer term but it's more often or not the people that are just here for winter. But they do say, 'Oh we could make this work longer term, we could come out of Auckland, we could work digitally and we could have the lifestyle and the health, the connection of the small community while still working.' I know one man who is and there must be others."
A commercial plant in the area also struggle to get staff due to lack of accommodation options.
"They've got one house that people can live in but if you want your own house you can't."
The community feel unemployment is low in the area, as;
"...you can't afford to be."