Employment is available in Ohakune in the primary sector and tourism. However local employers struggle to find local staff, often resorting to employing 'outsiders.'
"Tourism. Bar staff, restaurants, ski hire, hospitality. Market garden is an interesting one…they've got 50 people out there but not many of them are locals. This is the other problem, unfortunately. There became a focus a few years ago that kids had to go to university, that's the be all and end all, and no one wanted to work in the gardens. And I was like, 'you can move up in the gardens, get your truck driver's license and the like,' but the kids were like, 'Ew, I don't want to work in the gardens!' and there became a sort of like, a stigma about it. And it is hard. I mean, good god! When you see them out there in the gardens on the frosty mornings getting Brussel sprouts, I take my hat off to them. But it is steady work, you can rely on it. Our staff would be an average age of over 40. Most of the young ones don't last."
"We've got forestry. Forestry is big. Farming is big, it's sustainable now. Its intensive extensive. It's big but owned by a few. Corporate farms and iwi ones. They're very efficient and they turn out of their land a lot of production and then you've got the growing situation, market gardening, it used to be 52 and now it's about 10, but the same acreage. It's a little bit reflective of employment, it's more mechanised now. And then you've got tourism".
"In the last 10 years farming has gone down. Market gardening, some have gone bigger but others are quite small. And the other industry summer too now is tourism, the mountain biking and the sight-seeing, the walking. And today, you see the tourists there and everyone is out there sitting in the sun, with their girlfriends and boyfriends. And just enjoying it because it's a picturesque place!"
We are inundated with plumbers and builders now, but good luck getting any of them, they are working on new builds."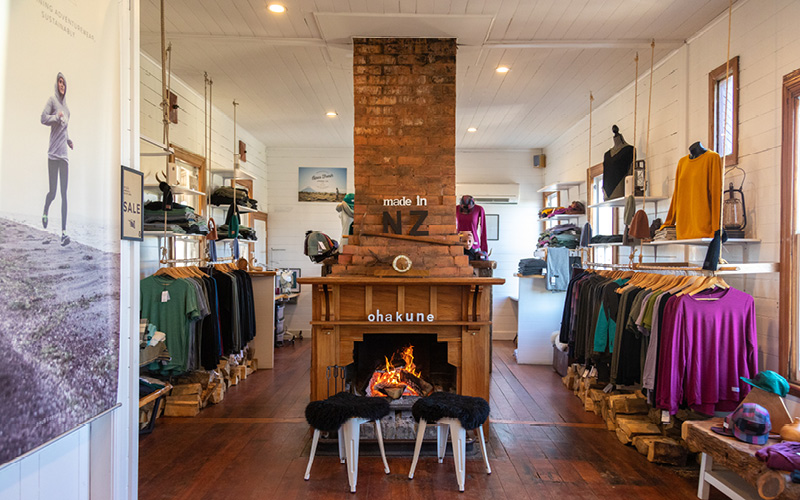 Despite the availability of jobs, there are particular challenges for work seekers with the most readily available work being low paid or seasonal work.
"I think it's the fact that they're part time, they're not well paid. Getting a job here – it's not a problem getting a job. I've never had a problem getting a job. It's getting a full-time job. That's permanent. Everything is casual, seasonal, part time and its minimum wage. Trying to find a permanent job with progression that's year-round, it's hard. You can't afford a house, a family. How can you when you're just bouncing around in part time work."
"There are a lot of entrepreneurs here. Absolutely. People looking to make, you know, I'm not going to make that money so I'll make my own business. Firewood, coffee, people making things, breweries, mead. All the important things! Food and beverage is huge. Clothes. Also there seems to be lots of cleaning companies as an offshoot of the short term rentals* and that works for mothers to do, but again is low paid and seasonal."
Some participants felt that although the town still is much busier in the winter, the winter/summer seasonality was no longer so clearly demarcated.
"The town is still operating on a six-month cycle. That real seasonal stuff. And the growth is there, you only need to go into town today and see the people, it's nowhere near winter. The highest turnover now in the supermarket is the summer and I think it's because in the summer people are cooking for themselves because the business, the restaurants aren't open. And also the type of people they are, they're happier to cook their own food […] The birdwatchers, the walkers, the fishers, the mountain bikers, those sorts of people are coming."
The lack of professional jobs, career positions or non-seasonal work was felt to be an issue that led to people leaving, or not coming to live in, Ohakune.
"Lots of people, they're capable of getting a job for a season but then they've got to go out of town, they've got to leave. Then if they want a career, they've got to leave to get a life, and it breaks families up. To get a job to be able to make a career you've got to go away."
"There's a lot of jobs advertised in the South, mainly trades and that to get them into the area, mechanics, electricians but people just don't want to come, they're not confident they can get a house too."
Participants suspected that there were many people relying on social welfare in Ohakune. Mental illness was noted as an issue that may disable people from accessing work:
"There are some. Yeah there is. WINZ is busy. Maybe they're older and become unskilled and can't get a job. Maybe they're on a cycle. Just sort of like, this is what you kind of do."
"It comes under their wellbeing and mental state. A loss of faith. I'm sure that's got to be a big marker in people not getting a job."