Participants noted that there was a large population of elderly people in Taumarunui, and therefore the most prevalent health issues in the area included chronic conditions affecting the aging population. Respiratory issues across all age groups were also a common concern amongst participants owing to environmental factors such as housing condition and air quality.
"At the hospital here the biggest issues would be chest complaints. And it's married to the state of the housing. They did a study and when the houses were insulated there was very definitely a drop in the number of young people attending for chest complaints. So there is a direct correlation."
"The kids come with a multitude of health problems from growing up in cold homes and not being properly cared for."
"There's quite a few respiratory type issues, across the age groups. There is a smoking habit in this town. But the actual air quality in this town is not good. Particularly in winter with burning wood…. It's part and parcel of the respiratory problems here. There is an inversion layer here, a lot of fog."
"You also find a lot of seasonal respiratory issues also with the pine around Taumarunui and the pollen that comes off that. And I've found over the recent years problems with privet. You take out the hedges and peoples' respiratory problems change just like that."
"There's a lot of arthritis, chronic conditions. When you get old, you wear out. Bits of you wear out. And that's what you see here because there's a lot of old people. And older people coming in here from elsewhere. You see them in them walking frame and electric buggies."
Access to aged care services
Waikato DHB breakdown of age group / reason admitted to hospital
Some participants viewed the cost to access primary care as reasonable, although long wait times and a lack of GPs are viewed as unreasonable.
"Trying to get an appointment is almost impossible. My sister went up there and they said we have an emergency appointment today, or you can come at the end of the month. The wait is three weeks."
Despite a number of specialists traveling to Taumarunui Hospital, a number of participants noted that driving to Hamilton to access specialist care is viewed as a barrier to access healthcare and disruptive to families.
"People have to drive two hours each way regularly, or go and live in Hamilton."
"A pediatrician comes here regularly now, so we can get a lot of things done here but other things you can't avoid going to Hamilton. If you're working full time it's another hard part. You do see a lot of kids from lower socio-economic families with things like ear problems and constant, constant illness."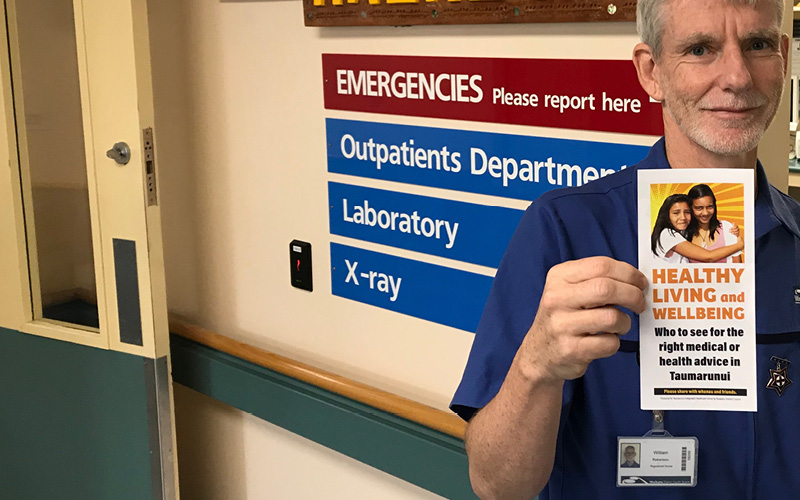 There is shared frustration that singular short appointments are made with specialists only to be followed up weeks later, after a four hour round trip, requiring fuel and time off work.
"You can go up there to see a surgeon and spend two minutes with that person just for them to say, 'Oh yes, we can fix that. We'll see you in two months' time for the operation.' So, you've gone all that way for two minutes. You've just travelled two hours!"
There is a shuttle bus between Taumarunui and Waikato Hospital, but it not viewed to be suitable for people who are very ill. The travel fund is also seen as problematic, as its availability is not widely known about, users must pay up front for fuel, which for some is not possible, and the application process is challenging to navigate.
"There's a bus that goes every day to hospital and it's free. And that's fine if you're well enough to use that bus but if it's for treatment, like for cancer, well then you can't go on the bus because you're so ill. But there is a travel fund you can apply to. But people don't know about it and it's not easy to get at."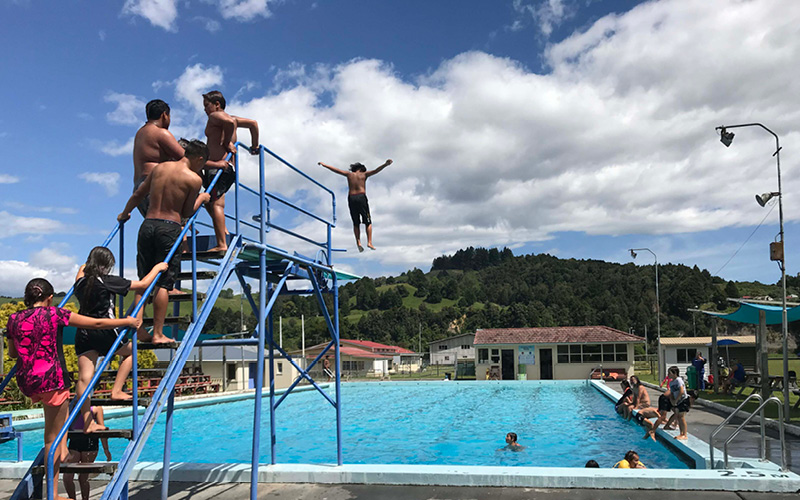 Despite population growth, access to health services is perceived to be effecting the population growth as it discourages relocating to Taumarunui and is a factor contributing to people leaving.
"Some people don't move into the area because of the health issue. I was talking to someone the other day and they had to seriously think about if they were going to come and stay here because they wanted to stay close to health services"
However, this perception was not unanimous:
"We've come across new people to the area, their take on the health issue here was that it's not a problem. If you try and get an appointment in Auckland or Tauranga, you're waiting weeks anyway. So if you're quite healthy and you're active then it's not a problem."
High drug and alcohol use in the community are viewed as complicating factors. Some concerns include the impact of addiction in the workplace, the knock-on effect this has on local businesses, a perceived lack of nutritional and exercise literacy, and the effect this has on families, long wait times, and a lack of GPs.
"Drugs and addiction is a bad problem here. I'm up against it because I'm an employer. Alcohol, methamphetamine and to a lesser degree cannabis are the main problems… I see people starting off, I call cannabis the precursor, and once they get on to methamphetamine it's really, really terrible. We see a lot of people in our industry, despite their best efforts to clean up there are issues around the use of drugs for sure."